EXACT ENVIRONMENT POLICY..
In the field of activity covering production and sales of the dry charged and maintenance free batteries; It is a priority of the management and personnel of our company to ensure constant development for sake of more sensitivity to the environment.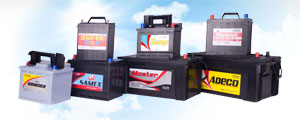 EXACT undertakes constant development of the Environmental Management System by providing all financial, administrative, technical and equipment resources to attain the environmental targets in accordance with the environmental protection standards.
THE STEPS WE TAKE TO ACHIEVE THESE TARGETS
Determine, take under control and reduce any environmental effects that arise or may arise from the production activities.
Comply with the respective laws, legislation and legal regulations in the environmental aspect of our business and eliminate any risks of the parties that may suffer damage from the environmental effects concerning the aspect in question.
Think about technologies with minimum risk and effects with respect to the environmental aspect of our business for new investments and, therefore, reduce pollution.
Use the raw material, energy and natural resources efficiently to minimize waste.
Taken under control and reduce the waste from our products and activities by paying attention that the raw materials used in the process are of recoverable.